Podcast Host
Kimberley Waldron
An award-winning marketer and entrepreneur, with 10 years + experience in the technology, retail, mobile and banking sectors. Kimberley's career began in Manchester in independent music promotion, radio and online journalism.
In 2009, Kimberley Co-Founded international communications agency SkyParlour at 26 years of age. Ten years on, from its base in central Manchester, the business has amassed Fintech clients around the world from Palo Alto, to Munich, to Jakarta and back again to Cheadle.
Kimberley is co-chair of the Pro Manchester Fintech committee and industry advisor to the University of Salford Fintech MSc programme. She is also an active member of the Founders for Schools initiative and a mentor on the Tech Manchester mentoring programme.
Founder of Trilo
Hamish Blythe
After struggling with the expensive world of payments, and painful experiences with card fraud, Hamish founded Trilo. Prior to Trilo Hamish joined a startup on the west coast of the US, and founded an MVNO university.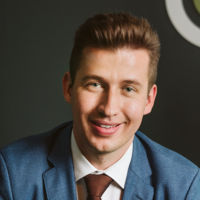 Co-Founder and CEO of FROST
Pawel Oltuszyk
Frost is the app that makes you feel cool about money. Switch and slash your utility bills, get instant spending notifications and in-depth analytics, plus loads of features to help you conquer your finances and save big.
Customer Success Director at FORM3
Joeri van Loenhout
My name is Joeri van Loenhout, Customer Success Director at Form3 responsible for European customers and prospects. I am Dutch and living in Amsterdam. I started off my career as a financial auditor at Deloitte and through consultancy slowly moved to more commercial roles. I got started in payments at an Amsterdam based technology start-up called Dimebox, which was a payment orchestration platform, delivering a white-label platform as a service to merchant acquirers and other F.i.'s. When that company got sold to US payment terminal manufacturer Verifone, myself and 2 other colleagues from the commercial team started looking for a new challenge, within payments and with a company that had an equally exciting proposition and was in a somewhat similar growth phase, and we ended up joining Form3. Form3 is a cloud-native, payments infrastructure provider, connecting regulated financial institutions into clearing & settlement systems in the UK and Europe, and we do so as a fully managed service. With a team of 4 we now head up the European High Growth team and as our European services are being rolled out we try our best to repeat some of the tremendous success the company has had in the UK.